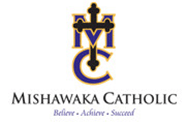 Mishawaka Catholic School builds disciples of Jesus Christ through faith formation, academic excellence, and service to others in accordance with the teachings of the Roman Catholic Church.
MEET THE TEACHER
My name is Nancy Catanzarite. I'm a veteran teacher, beginning my 18th year of teaching. I am beyond excited to start my first year at Mishawaka Catholic School teaching 7th & 8th Grade ELA/Reading at the St. Monica campus. My husband, Pat, and I were married 27 years ago at St. Monica, and 3 of our children were baptized here. We moved to South Bend in 1993, and they grew up at Holy Family School and Marian High School. Anna (newly-married), Nick, and Patrick are all grown, graduated from college, and living the grown up life now. Their older sister, Mary, and her husband graced our family with twin boys in October 2014. We enjoy travelling and being with our huge families--I love cooking Italian food for all of them!
WHAT WE WILL BE DOING THIS YEAR
This class will be using various grade level materials to become even better readers & writers. We will be focusing on the mastery of grammar, writing, vocabulary, and reading comprehension skills. We will be covering the Indiana academic state standards. We will be reading both fiction and non-fiction novels each quarter, as well as completing literature packets that concentrate on understanding literary skills and improving comprehension. The Accelerated Reader program will be utilized this year, too.
Supplies needed: Students are expected to come prepared for class each day with:
Planner

Binder

Book

Reading, Grammar, Writing notebooks

Pens, Pencils
Middle School late work policy: Student work should always be turned in on the day it is due. However, unless the student is absent, late work will be handled in this manner:
Assignments turned in ONE DAY late will receive the penalty of –20%.

Assignments turned in TWO DAYS late will receive the penalty of –50%.

After three days, the assignment will be accepted but will receive a ZERO.
Putting forth 100% effort & taking pride in all we do is extremely important to me. Therefore, all work done for me is expected to be your student's PERSONAL BEST!
I feel so blessed to be a part of this great Mishawaka Catholic School community, and I'm excited for an awesome year with the fantastic kids at St. Monica. My expectations are very high for the 7th & 8th graders; I have no doubt they will strive to surpass them, too!
♦♦♦♦♦♦♦♦♦♦♦♦♦♦♦♦♦♦♦♦♦♦♦♦♦♦♦♦♦♦♦♦♦♦♦♦♦♦♦♦♦♦♦♦♦♦♦♦♦♦♦♦♦♦♦♦♦♦♦♦♦♦♦♦♦♦♦♦♦♦♦♦♦♦♦♦♦♦♦♦♦
STUDENTS, THE LATE/MISSING ASSIGNMENT PROBLEM HAS IMPROVED SO MUCH. PLEASE CONTINUE WITH THE GOOD WORK & STUDY HABITS!
Write all assignments/tests/quizzes in those planners!
Check off each thing as you complete it!
Turn in your completed work ON TIME!

8th graders need 30 AR points

, and

7th graders need 27

.
**Effective Monday, December 11**
Any 6, 7, or 8th grader with fewer than HALF of his/her AR Points will go to study hall in place of his/her enrichment class (T, W, Th) until the entire quarterly goal is met!
The last day of Quarter 2 is DECEMBER 22. Last day for AR testing is DECEMBER 20!!
**The following students have already reached or surpassed their 2nd quarter AR requirement of 30 or 27 points. CONGRATS, 8th graders Hayden Carrasco, Drew Geiger, Nick Heidt, & Jadyn Sherry!! CONGRATS, 7th graders Grace O'Hara, Tanner Spiess, Roan Stanifer, & Lucas Walter!! You are all ROCK STARS!!
♦♦♦♦♦♦♦♦♦♦♦♦♦♦♦♦♦♦♦♦♦♦♦♦♦♦♦♦♦♦♦♦♦♦♦♦♦♦♦♦♦♦♦♦♦♦♦♦♦♦♦♦♦♦♦♦♦♦♦♦♦♦♦♦♦♦♦♦♦♦♦♦♦♦♦♦♦♦♦♦♦
What we are working on for the week of December 4--8:
7G, 8P, & 8G classes are beginning their last writing piece for the quarter--an Argumentative Essay. Last Friday, each student was given TWO sheets with 6 options to choose from, criteria and expectations, as well as due dates for each stage of the writing process. The top sheet should be kept at home for your reference, and the second sheet is to be filled out, signed by student AND parent, and returned to me by TUESDAY, 12/5.
ELA--8P & 8G
Grammar: PARTS of SPEECH--Adjectives & Predicate Adjectives
Writing: Argumentative Writing Pieces

Vocabulary Workshop: Unit 8 (Last Vocabulary unit for the quarter)
Monday Homework: Vocabulary--pages 103, 104, top of 105 (Choose the Right Word, Synonyms, Antonyms) Writing--Argumentative Essay Topic Choice DUE TOMORROW!! Grammar--
Tuesday Homework: Vocabulary--pages 105, 106, 107 (Complete Sentence, Vocabulary in Context) Writing--Begin research for Argumentative Essay. Grammar--

Wednesday Homework: STUDY FOR THURSDAY'S VOCABULARY TEST Writing--Complete research for Argumentative Essay. Grammar--
Thursday Homework: Writing--Be prepared to begin introduction of essay (rough draft). Grammar--

READING--8P & 8G
Literature: The Watsons Go to Birmingham--1963
Monday--Chapter 11; Understanding Southern dialect throughout conversations

Tuesday--Chapter 12-13; Comprehension questions & in-class activities
Wednesday--Chapter 14; News reports/collecting facts regarding church bombing in ch.14

Thursday--Chapter 15; Retelling, piecing together what happened in the church
Friday--In-class work on essays

ELA--7G
Grammar: PARTS of SPEECH--Comparative & Superlative Adjectives
Writing: Argumentative Writing Pieces

Vocabulary Workshop: Unit 8 (Last Vocabulary unit for the quarter)
Monday Homework: Vocabulary--pages 103, 104, top of 105 (Choose the Right Word, Synonyms, Antonyms) Writing--Argumentative Essay Topic Choice DUE TOMORROW!! Grammar--
Tuesday Homework: Vocabulary--pages 105, 106, 107 (Complete Sentence, Vocabulary in Context) Writing--Begin research for Argumentative Essay. Grammar--

Wednesday Homework: STUDY FOR THURSDAY'S VOCABULARY TEST Writing--Complete research for Argumentative Essay. Grammar--
Thursday Homework: Writing--Be prepared to begin introduction of essay (rough draft). Grammar--
READING--7G
Literature: Across Five Aprils
Monday--Chapter 5; Understanding irony in the story; vocabulary, synonyms

Tuesday--Chapter 6, 7; Metaphors-making comparisons; vocabulary, analogies

Wednesday--Chapter 6, 7; Discussion questions in class; explore the Creighton family tree

Thursday--Begin constructing our own family trees

Friday--In-class work on essays